Can Laser Skin Resurfacing Get Rid of Acne Scars?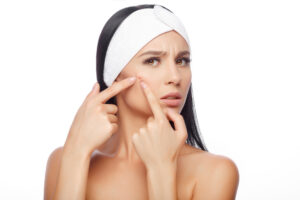 Laser skin resurfacing can be utilized in a number of ways to enhance the overall tone and texture of the skin. As a non-invasive treatment designed to improve an array of dermal imperfections, laser therapy can be customized according to a patient's unique skin type and aesthetic needs to provide a smoother, younger-looking complexion. Depending on the type of laser utilized, the treatment can also be adjusted to substantially fade residual acne scars. This technology is generally very effective in lightening the appearance of dark spots, blemishes, and other hyperpigmentation in the skin, as it encourages the surface layers of the dermis to slough off in order to facilitate new skin growth. While laser skin resurfacing can, indeed, improve the appearance of acne scars, the extent to which scarring can be diminished relies heavily on both the type of laser used, and the experience of the practitioner administering treatment.
There are a range of modalities that can be used to lighten existing acne scars; therefore, enlisting the expertise of a board-certified facial plastic surgeon who is able to determine which laser can provide the most optimal results for your unique skin type is essential. Different laser systems have varying effects according to the dermal condition being addressed, meaning hyperpigmentation and discoloration can be exacerbated if the correct laser is not utilized on the appropriate skin type.
A facial plastic surgeon is well-trained in selecting the laser system that can provide natural-looking skin enhancement for a certain skin type, and can approach the treatment in a manner that comprehensively fulfills a patient's cosmetic goals. I always perform a thorough review of my patients' medical history, as well as an extensive examination of their scarring, to ensure that laser skin resurfacing can provide an exceptional aesthetic outcome. When treatment is performed appropriately, laser skin resurfacing can refine the skin for a radiant, even skin tone and an overall enhanced facial appearance.
—Scott Shadfar, MD