Oklahoma City Facial Plastic Surgeon Discusses Surgical and Non-Surgical Treatments to Reverse Signs of Skin Damage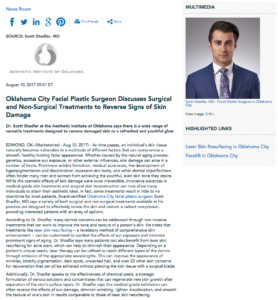 Dr. Scott Shadfar at the Aesthetic Institute of Oklahoma says there is a wide range of versatile treatments designed to restore damaged skin to a refreshed and youthful glow.
Edmond, OK— As time passes, an individual's skin tissue naturally becomes vulnerable to a multitude of different factors that can compromise a smooth, healthy-looking facial appearance. Whether caused by the natural aging process, genetics, excessive sun exposure, or other external influences, skin damage can arise in a number of forms. Prominent wrinkle formation, residual acne scars, the development of hyperpigmentation and discoloration, excessive skin laxity, and other dermal imperfections often hinder many men and women from achieving the youthful, even skin tone they desire. While the cosmetic effects of skin damage were once irreversible, innovative advances in medical-grade skin treatments and surgical skin reconstruction can now allow many individuals to attain their aesthetic ideal. In fact, some treatments result in little to no downtime for most patients. Board-certified Oklahoma City facial plastic surgeon Scott Shadfar, MD says a variety of both surgical and non-surgical treatments available at his practice are designed to effectively renew the skin and restore a radiant complexion, providing interested patients with an array of options.
According to Dr. Shadfar, many dermal concerns can be addressed through non-invasive treatments that can work to improve the tone and texture of a person's skin. He notes that treatments like laser skin resurfacing—a revelatory method of comprehensive skin enhancement—can be customized to combat the effects of sun exposure and minimize prominent signs of aging. Dr. Shadfar says many patients can also benefit from laser skin resurfacing for acne scars, which can help to diminish their appearance. Depending on a patient's unique needs, laser therapy can be utilized to reach different layers of the dermis through emission of the appropriate wavelengths. This can improve the appearance of wrinkles, blotchy pigmentation, dark spots, unwanted hair, and over 20 other skin concerns for rejuvenation that can all be achieved without piercing the skin tissue with a surgical blade.
Additionally, Dr. Shadfar speaks to the effectiveness of chemical peels, a strategic formulation of various solutions and concentrates that can regenerate new skin growth after separation of the skin's surface layers. Dr. Shadfar says this medical-grade exfoliation can often reverse the effects of sun damage, diminish wrinkling, lighten discoloration, and smooth the texture of one's skin in results comparable to those of laser skin resurfacing.
Dr. Shadfar reveals that these non-surgical procedures can typically be performed adjunctively with cosmetic injectable or dermal filler treatment for more complete and total skin enhancement. He says BOTOX® Cosmetic and other minimally invasive products can further enhance areas of the face, targeting specific areas exhibiting signs of wrinkles, fine lines, and other concerns. In this way, facial skin can be renewed and smoothed until the desired aesthetic outcome is obtained.
For individuals seeking longer-lasting results than those that can be provided with minimally invasive techniques, Dr. Shadfar often recommends the facelift and/or eyelid rejuvenation procedures, depending on the patient's needs and goals. Sun damage, smoking, the natural process of aging, and other factors often cause skin tissue to sag, consequently resulting in a tired or aged appearance. Dr. Shadfar says a facelift can cultivate a more refreshed look and feel by tightening and smoothing skin in the cheeks, jowls, and areas of the neck. He notes that individuals with significant eyelid "drooping" or under-eye bags can additionally benefit from eyelid surgery, a procedure designed to remove excess eyelid skin and/or fat to create a more refreshed aesthetic. Dr. Shadfar can perform both treatments as stand-alone surgeries or simultaneously, depending on individual preference.
Ultimately, there are many ways to reduce, and even eliminate, skin damage. Dr. Shadfar says one of the most important determinations an individual can make when considering treatment is ensuring they are in the care of a well-qualified professional. As summer goes on, Dr. Shadfar encourages individuals to minimize skin damage by protecting themselves from excessive sun exposure, and to be aware that there are a plethora of different rejuvenative services that can be utilized when necessary.
About Scott Shadfar, MD
Dr. Scott Shadfar is a board-certified facial plastic surgeon. He began his studies while attending Oklahoma City University, where he graduated summa cum laude and continued his medical training at the University of Oklahoma College of Medicine. There, he graduated at the top of his class and completed his surgical residency in Otolaryngology-Head and Neck surgery. Dr. Shadfar was subsequently granted one of the most prestigious fellowship programs in the country and is now an active member of the American Academy of Facial Plastic and Reconstructive Surgery. He is heavily involved in medical research and journal publication while continuing his role as founder and president of the Aesthetic Institute of Oklahoma. Dr. Shadfar is available for interview upon request.
Contact:
Aesthetic Institute of Oklahoma
4509 Integris Parkway
Suite 200
Edmond, OK 73034
(405) 534-4358
Rosemont Media
(858) 200-0044
www.rosemontmedia.com