FACIAL PLASTIC SURGEON SCOTT SHADFAR, MD
Meet Dr. Shadfar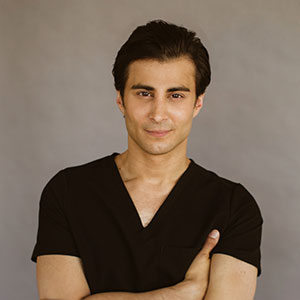 Dr. Scott Shadfar was born and raised just outside of Oklahoma City, Oklahoma and began his undergraduate education at Oklahoma City University. He completed his double major in chemistry and biochemistry graduating summa cum laude. He continued his medical education at the University of Oklahoma Health Science Center, where he was elected into the Alpha Omega Alpha national medical honor society, as well as graduating at the top of his class in 2008. Dr. Shadfar then joined the medical staff at the University of North Carolina for his surgical residency in Otolaryngology-Head and Neck surgery. During his residency, his interest grew in facial plastic surgery while working with leaders in the field, and further solidified his desire to dedicate his craft solely to cosmetic and reconstructive procedures of the face and neck. During his final year of surgical training, Dr. Shadfar was honored with the Harold C. Pillsbury leadership award for recognition as the most outstanding chief resident.
Following surgical residency, Dr. Shadfar completed one of the most sought after fellowship programs in the country with Dr. Stephen Perkins, an international leader, scholar, and expert in facial plastic and reconstructive surgery.
Dr. Shadfar has been actively involved in aesthetic and reconstructive surgery research, co-authoring several journal publications, book chapters, and is an active member of the American Academy of Facial Plastic and Reconstructive Surgery.
Focusing his practice on rhinoplasty, facelift, eyelid surgery, and a full range of other cosmetic and reconstructive procedures, Dr. Shadfar is committed to providing excellence in his transformative and restorative contributions.
What is a Facial Plastic Surgeon?
A facial plastic surgeon is a physician who has completed training in all aspects of Otolaryngology and further fellowship training specifically in facial plastic surgery. The distinction between a plastic surgeon and facial plastic surgeon is marked by board-certification from the American Board of Facial Plastic and Reconstructive Surgery (ABFPRS). Facial plastic surgeons combine a nuanced understanding of aesthetic beauty with a comprehensive knowledge of facial anatomy and physiology to improve, reconstruct, or repair structures of the head and neck. While commonly performing procedures designed to address signs of aging or create a more harmonious balance between the facial features, those specializing in facial plastic surgery also work to remove facial cancers and reconstruct the resulting defects following their removal, reconstruct the face after trauma or injury, and achieve a range of other cosmetic and functional goals.
Why Choose Dr. Scott Shadfar?
The expertise of a facial plastic surgeon is not only communicated through outstanding aesthetic outcomes, but also in passion for the craft and a dedication to long-term improvement. Dr. Scott Shadfar takes great pride in serving patients throughout Edmond, Oklahoma City and surrounding areas for their aesthetic and reconstructive needs. In addition to the beautiful, natural-looking results that Dr. Shadfar has achieved—which are highlighted in his facial surgery before-and-after photos—his commitment to offering the highest quality of enhancement is reflected through his engagement within the field. An active member of the American Academy of Facial Plastic and Reconstructive Surgery, Dr. Shadfar is constantly seeking to improve upon traditional treatment protocols by conducting research and documenting his findings in academic journals as well as book chapters. Trained under the country's most renowned facial plastic surgery leaders, Dr. Shadfar upholds a high standard of safety, ethics, and overall excellence in his work that you deserve in your surgical or non-surgical treatment.
If you have additional questions about what to look for in a facial plastic surgeon, or if you are ready to schedule a consultation with Dr. Shadfar, please contact our practice today.