How to Preserve Facelift Results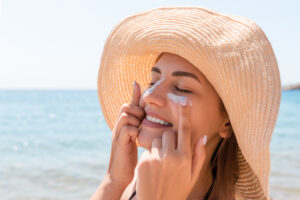 A facelift is among the most long-lasting and transformative facial rejuvenation treatments available to reduce visible signs of aging and revitalize your appearance. Even so, facelift surgery will not stop the cosmetic effects of age from recurring years or decades after your procedure. While the lifespan of your facelift will largely depend on your pre-operative anatomy, the type of technique utilized and extrinsic factors, such as sun exposure, can have a significant impact on your results. That said, certain lifestyle changes can help you maximize the outcome of your enhancement and preserve your rejuvenation:
Protect your skin from the sun: Harmful UV rays can damage the skin in multiple ways, including destroying collagen and elastin fibers that help the skin stay smooth as well as discoloring your complexion. Combined, these factors often result in age spots and a patchy, uneven texture. Wearing hats, sunglasses, and a quality sunscreen with physical blockade components like titanium or zinc oxide can minimize sun damage and help safeguard the tone and texture of your skin.
Eat healthy: Your diet certainly plays a role in how youthful and nourished your skin appears over the years. Sticking to vitamin-rich foods with rejuvenating qualities, such as bright vegetables, fish, meat, nuts, and leafy greens, can help your face stay hydrated, healthy, and smooth.
Avoid smoking: It's no secret that the chemicals in cigarettes dry out the skin and accelerate the aging process. To make the most out of your facelift results, it's essential to quit smoking — not only to prevent complications during the healing process, but also to circumvent further skin damage.
Use high-quality skincare products: A good skincare regimen can help your skin retain its youthful qualities and improve conditions like acne and hyperpigmentation. Don't hesitate to consult with a dermatologist or facial plastic surgeon on the best types of products to protect your skin health.
Consider undergoing non-surgical maintenance treatments: Eventually, signs of aging will start to develop once again. Fortunately, minimally invasive in-office treatments like fillers, laser skin resurfacing, and chemical peels can be very effective in correcting wrinkles, discoloration, and other skin concerns while helping you maintain a radiant complexion.
Daily care along with occasional non-surgical treatments can go a long way in preserving a beautiful, healthy, and vibrant appearance. To learn more about how to best prolong the outcome of your facial rejuvenation, please contact double board-certified facial plastic surgeon Scott Shadfar, MD today.